"The Ukes" 3 piece Fest Ukraine June 13th 2004, Toronto Canada.
In no way associated with or connected with "The Ukrainians".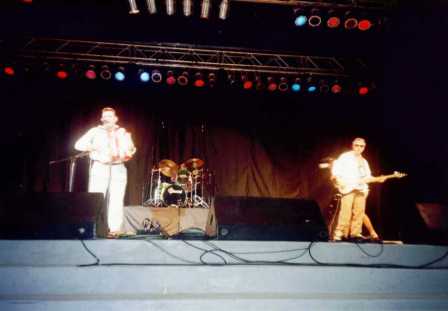 Hopak!
Omelan with our sound man earlier on in the day, just after soundcheck.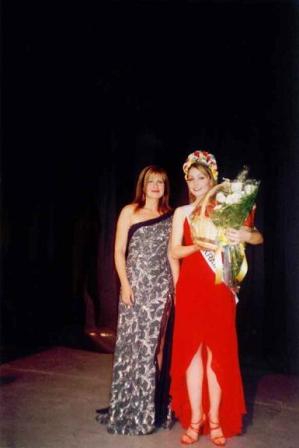 Winner Miss Ukraine Canada 2004, automatic entry to Miss Canada.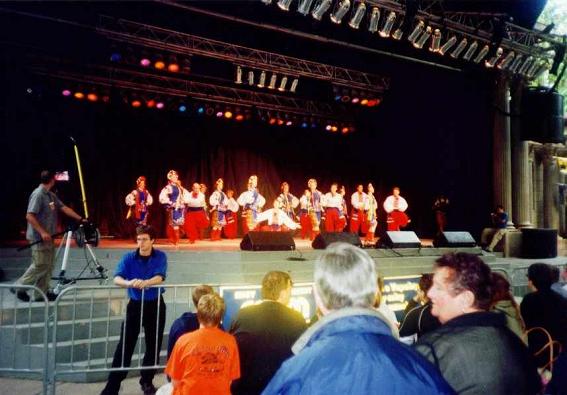 Vatra Dance ensemble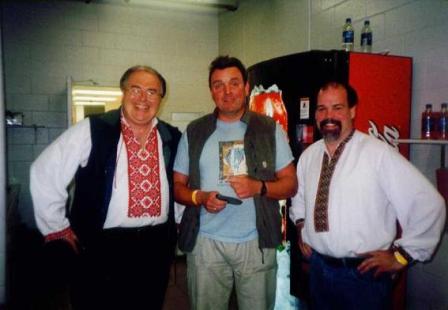 With the one and only inimitable Ron Cahute of Burya fame, & musical accomplice Ihor, backstage. Ron is the one with the wide red embroidery. His act was on just before us. We closed the event.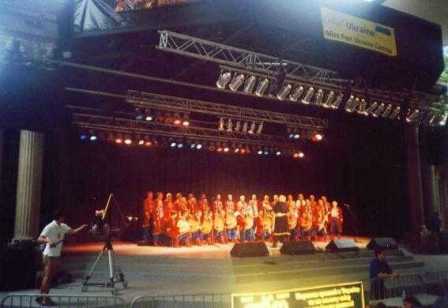 Canadian Bandurist Capella directed by World famous Bandurist Victor Mishalow.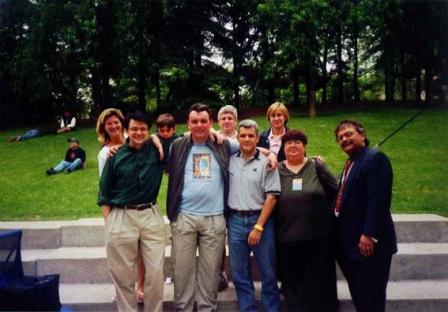 Friends from CYM Zlet Rome, 1988 & Andriy Hladyshevskiy QC, President of Canadian Foundation of Taras Shevchenko.
Trembita Club Toronto June 11th 2004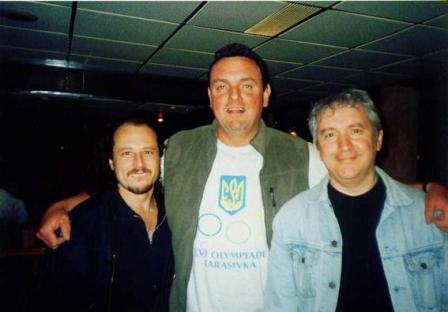 Hollywood award winning music producer, session drummer and friend Roman Klun, me, & Omelan just before warm up gig at Trembita Club Friday June 11th.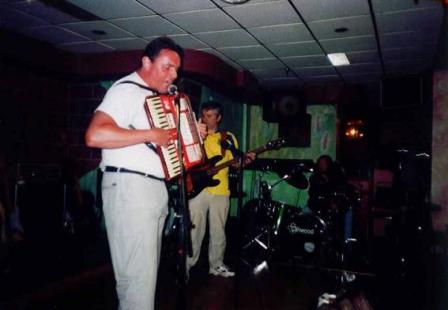 Pic 1 of 3 Trembita Club Toronto, Warm up gig, Friday, June 11th.
Pic 2 of 3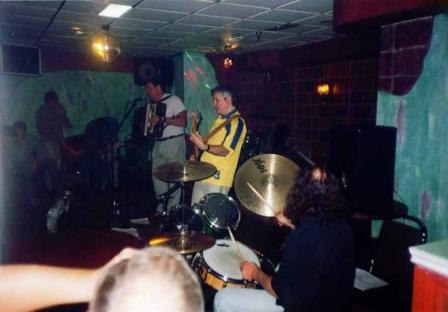 Pic 3 of 3
Bloor St, Ukrainian Toronto June 12th 2004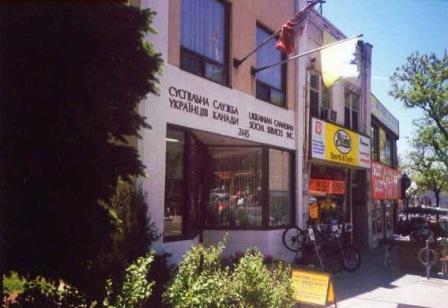 OK, if you're Canadian or if you've been there, you know. This is for those that aren't or don't know. Ukrainian banks, restaurants, deli's, travel agents, the works!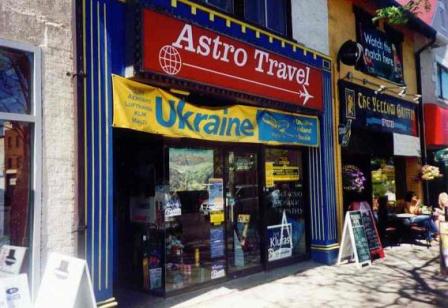 Ukrainain high street travel agents.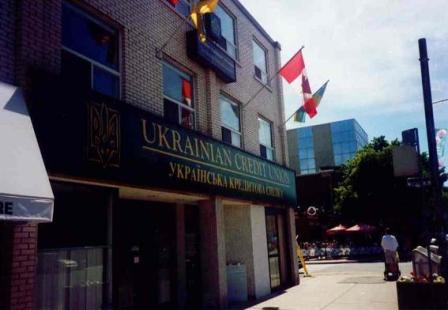 Ukrainian banks.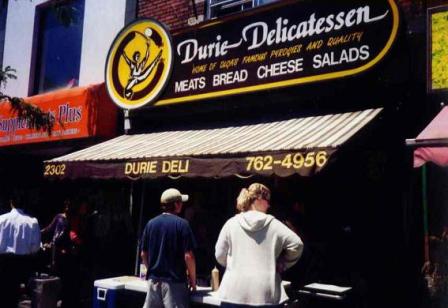 Ukrainian deli's.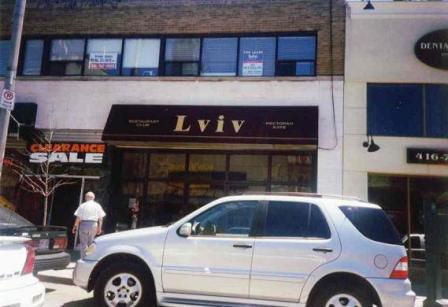 Ukrainian restaurants.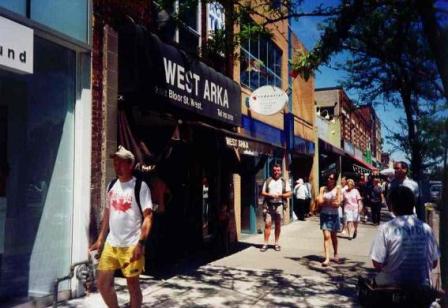 Ukrainian Music and Culture Shops.p>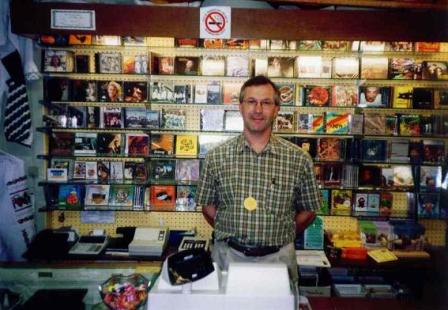 Face to face with Andriy, the man I posted a batch of my CD's to.
"The Ukes" Forst, Near Hannover, Germany, July 2002.
Breakfast at Carstens. This is the man who is responsible for "The Ukes", a fan of The Ukrainians and of my accordion playing in particular! He wanted some folksy gigs in Germany so I put a band together.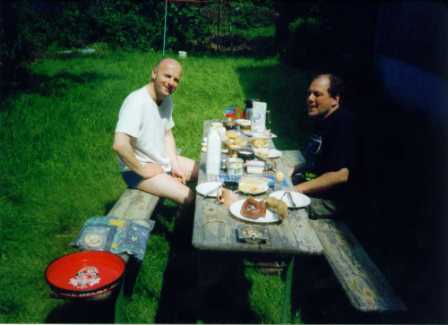 No expense spared with German hospitality. All the different types of local meat for breakfast, just in case we wanted to try it all out!
The transport to the gig was fun though, an open top Citroen 2 CV with huge sound system installed.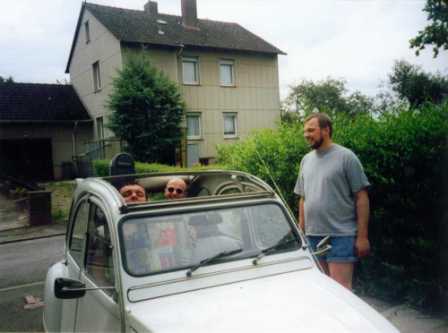 Somehow, we fitted in.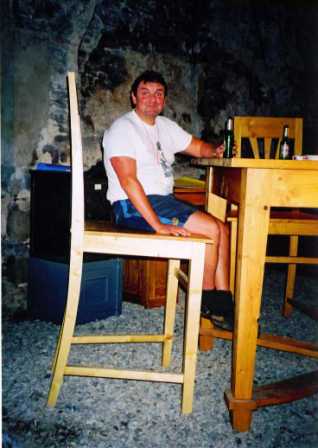 It rained that day July 13th, 2002, and something strange happened. Backstage we shrank!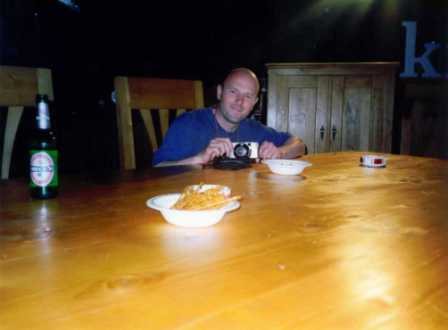 See, it happened to Andy too!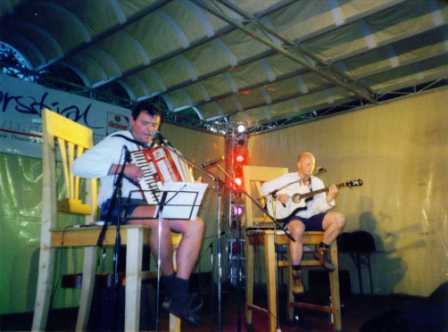 On stage pic. The shrinking didnt wear off until later.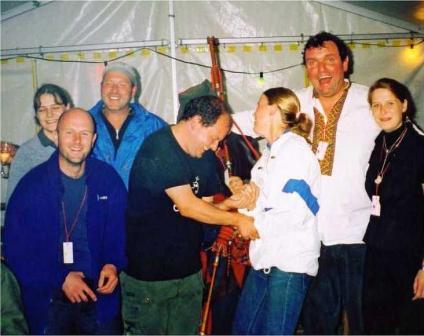 After the gig pics and party.
Zhnyva and co, before, during and after "The Ukrainians"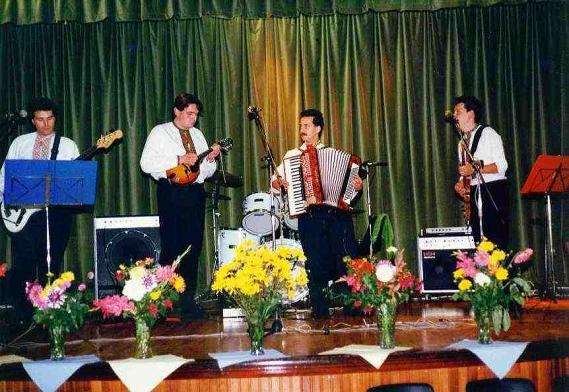 Zhnyva are a Waltham Cross based Ukrainian dance and general function band. I've been playing with them since the mid 80's, before during and after my time with "The Ukrainians". Thats me on the mandolin. We play a variety of dances, Rhumbas, Tangos, Viennese, traditional and slow waltzes, Foxtrots, etc, as well as the Kolomeyka Polka Hopak Ukrainian dancing tunes. As well as playing as a Ukrainian dance and Wedding band, we play a full comprehensive pop and MOR set ranging from 50's to the present as a function band. We can tailor each booking to individual requirements.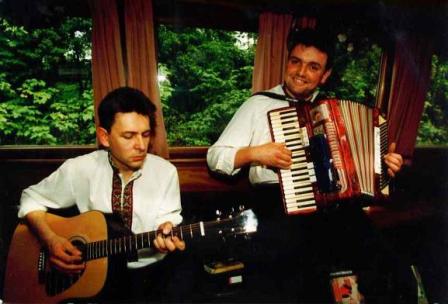 This is Pete, guitarist of Zhnyva helping me out playing a wedding function popular music magazine's editor. Venue was held a Canal boat on the "Little Venice" Canal ways just north of Central London.
"The Ukrainians" original line up days.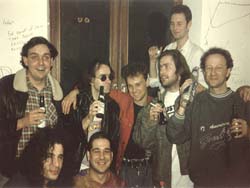 Backstage, Markethalle Venue, Hamburg, Germany. The Ukrainians Mark 1 line up.
L to R, Me, Len, Paul, Carlos (German promoter), and Pete. In front of Len & I, Aleric, our soundman, Roman, original mandolin man, and behind Carlos, Dave Lee, original drummer.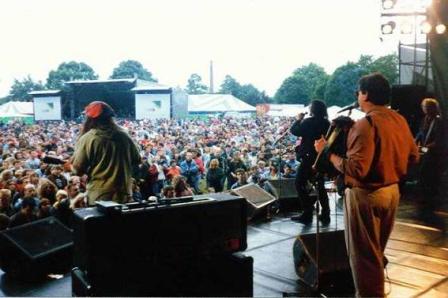 Tilburg Music festival, Holland, early 1990's.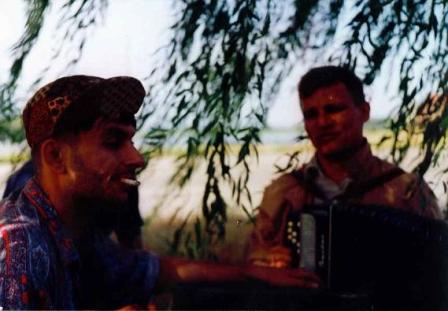 An acoustic version of Halyu by Oleh and Sashko of VV, The Ukrainians & VV joint tour of Ukraine, 1993. We were waiting for the Lesia Ukrainka Riverboat to pick us up at Novy Kremenchuky to take us on a 3 day party to play at "Tavriyski Ihry" Kakhovka pop festival where the Dnieper river meets the Black sea. Sashko is using the accoridon case as a drum.